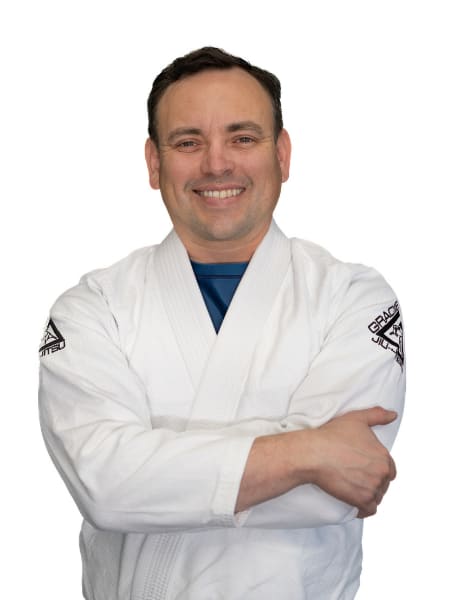 Jeffery Martinez
Classes are taught and facilitated by Sensei/Coach Jeff Martinez who has over 25 years of combined martial arts experience. A proud U.S. Army Combat Veteran (Afghanistan 2012) with the 82nd Airborne Division he served as a 13F Forward Observer. He holds a 6th degree Black Belt in Keichu-Do Karate/Ju-Jutsu having been under the tutelage of both the late Soke Karl W Marx 10th Dan and Grandmaster Eldridge Conley 9th Dan. In addition he's trained under Judo Olympian Sensei Mario Rubio (Five Cities Judo Club) and later earned his Shodan Black Belt in Judo (Sensei Paulo Augusto via Sensei Gary Goltz).
Jeff currently holds a Brown belt in Gracie Jiu-Jitsu® and now operates an official Gracie Certified Training Center. He has made extensive trips over the last few years training at Gracie University HQ in Torrance, CA and has taken classes under Grand Master Rorion Gracie, Rener Gracie, Ryron Gracie, Alex Stuart, Alex Ueda, Evandro Nunes, James Deluca, Samuel Fernandez, Eve Gracie and Victoria Gracie. In January 2021, Jeff completed certification for level 1 Gracie Survival Tactics®. In September 2021 he assisted instructors with GST level 2 at Gracie University HQ.

Continuing his education with the best, Jeff has attended seminars over the years under Grand Master Rorion Gracie, Master Rickson Gracie, Master Royce Gracie, Professor Richard Bresler, Professor Paulo Augusto, Professor Henry Akins, Professor Rener Gracie, Professor Ryron Gracie, Grand Master Francisco Mansor, Master Luiz Palhares, Master Fabio Santos, Master Joe Moriera, Master Chris Haueter, Professor Mario Sperry, Victor Marx, and Professor Roy Marsh(Royce Gracie Black Belt).
Lastly, during his time stationed at Fort Bragg NC, Jeff studied Gracie Jiu-Jitsu® under Professor Roy Marsh (Royce Gracie Black Belt) and while there completed certification from U.S. Army Combatives School for Level 1, and 2 in 2014. In addition Jeff has a Bachelors of Science Degree in Organizational Business Management from La Verne University. He has operated his Jiu-Jitsu Academy since 2016 in Nipomo, CA.